(01904) 733752

info@yogaco.co.uk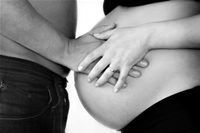 Birth Preparation Classes
With Sophie Carr BA (Hons), IYA, BWY (Preg)
We offer two birth preparation workshops: birth preparation classes for you and your partner, and birth breath classes for you on your own.
Birth Preparation Classes are held every 3 months. The next one is:
Sunday 8th December 2013 1.30 - 5.30pm
Clements Hall, Nunthorpe Rd, York YO23 1BW
£45 per couple. Drinks and light snacks provided.
Both you and your birth partner come to the birth preparation class. The class is suitable for couples who want to birth their babies normally, whether in hospital, at home or in a midwife-led unit.
We cover the following topics:
The characteristics of a normal birth. Hormones play an essential role in childbirth, stimulating the uterus to contract and natural painkillers to be released. In order for the efficient and sustained production of these hormones, a woman needs space to move, darkness and privacy. To be free to enter the "labour zone", an instinctive, non-verbal state, she needs to feel safe and protected. Given the right conditions less than one in ten births will be complicated and require intervention. We discuss ways of achieving the environment essential for a normal birth in hospital, at a midwife-led birth unit, and at home. We concentrate on the need to trust the process of birth and avoid clock-watching and unnecessary interventions.
Active birth. We discuss the benefits of an upright, active birth. We look at positions for the first and second stages of birth, spend plenty of time learning specific birthing breathing, how to support a woman during transition, and introduce the ideas of the foetal ejection reflex and "the birth passion". We discuss strategies to cope with labour complications.
Breathing, mindfulness and relaxation. Yogic breathing is the essential tool for childbirth. We look at how useful it is for dealing with the pain of contractions, and how it reduces feelings of anxiety and fear. We spend some time doing massage and mindful relaxation.
Patience is essential during birth, but birth is often 'actively managed'. We look at the whys and wherefores of 'managed' and 'undisturbed' birth so that you can make truly informed choices.
Acupressure pain relieving techniques. There are certain acupressure points which are very useful during childbirth, both for the relief of pain, and for stimulating the uterus to contract efficiently. We find these points on each other and discuss when it would be appropriate to use them during labour.
Feedback from previous birth preparation classes:
'Both Chris and I thoroughly enjoyed the afternoon and found it really confidence boosting and empowering. Chris has been utterly supportive throughout the pregnancy, but it has been brilliant to see him now be confident too in what my body will be able to do and the role he can play in helping us achieve the birth we want. He thought you were a brilliant teacher. Honestly, we're both really looking forward to the birth now!'
' 'Thank you so much for Sunday's class. My partner and I found it extremely useful and I think the key to this was twofold: first, that the environment felt 'right', ie. a space which generated a feeling of privacy, enabling people to feel able to speak in confidence. Second, the character and approach of the tutor (you!), most particularly qualities of openness and and a willingness to engage with very differing ideas and concerns, and be non-judgmental. The result was a feeling of empowerment - that I do have the ability to be in control of the birth. I feel much more confident to be able to follow my instincts and intuition, and ask for what I need; my partner also now feels better placed to support me and back me up whatever decisions I make. We went to an NHS antenatal class on 'Labour and Pain Relief' this morning and everything was packed into an hour and a half, which left me feeling pretty dizzy - and would have been very confusing, had I not had the benefit of Sunday's class with you!'
'My partner felt for the first time that he had an important role to play and felt very positive after the day. An excellent and empowering class - it left us both enthusiastic and inspired."
'We found the session really helpful in terms of both reassuring us about some of the decisions we have already made so far and also raising some very pertinent ones that still need further discussion. The practical exercises were very useful - my partner particularly valued the exercise with arms in the air and breathing as it really gave him a sense of the way yoga breathing is so important for pain relief, and also hearing how you 'coach' someone as they breathe. We found the 'imagine how you think the birth will happen' exercise great, as it really emphasised the power of expectation over wishes/wants. It was also good to hear that other people have fears too - and to just acknowledge them without trying to solve them.'

"My partner found it particularly useful. The practical work to deal with the pain of labour naturally, such as acupressure and breathing techniques made him feel involved and essential - fantastic, thank you."
Birth Breath Workshop
Date to be arranged
Jacob's Well, Trinity Lane, off Micklegate, York £20
A workshop for women in their second and third trimester. Learn and practice proven pain relieving breath techniques for latent labour, first stage and second stage using Ujjayi Breath, Golden Thread Breath and the Downward Birthing Breath.
"Absolutely essential, the breath was all I needed. The power of it and the focus it brings in birth is amazing - I had a wonderful birth experience, right in the zone." Heather, York.

To book, send a cheque made out to Sophie Carr, together with your contact details, to 24 Richardson St, York YO23 1JU.