(01904) 733752

info@yogaco.co.uk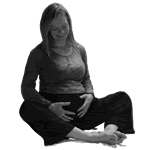 Yoga for Pregnancy
Yoga is one of the three forms of prenatal exercise recommended by midwives, the others being walking and swimming.
Our form of yoga has been carefully adapted to meet the needs of pregnant women. It is safe, empowering, and based on knowledge of the effects of yoga on women's physiology. What we do is supported by scientific research and contact with midwives.
We run four classes a week:
Mondays 6.30 - 8.15pm with Sophie Carr
Wednesdays 6.30 - 8.15pm with Sophie Carr
Thursdays 6.30 - 8.15pm with Alison Goodwin
Sundays 6 - 7.45pm with Alison Goodwin.
There is a waiting list for these classes so we suggest you book in as early as possible.
Our classes are at Jacob's Well, Trinity Lane, off Micklegate, York YO1 6EL - except the Monday class which is in the Clementhorpe Room, Priory St Centre, Priory St, York YO1. The fee is £8 per class, payable half-termly in advance, up to your 38th week. After 38 weeks you pay weekly: you are welcome to come to class until your baby is born.
Booking required for all classes - please phone 01904 733752 or email info@yogaco.co.uk. For parking details please email.
We receive enormously positive feedback for our classes. Here are a few examples:
"Sophie - I had no idea that what I'd learnt with you would be so incredibly important for the birth. I had no pain relief at all, no gas and air, not even paracetamol. I just did my yoga breathing, sat on my ball, had my sacrum massaged as per your birthing class, and welcomed each contraction as good! We were six of the seven hour labour alone in the dark – the midwives thought we were asleep. Then half an hour with just one midwife. I gave birth to my daughter kneeling on the floor and she was put straight into my arms. I delivered the placenta myself ten minutes later. She breastfed straight away for 2 hours and 2 hours later we were home! This perfect experience is due largely to you – thank you so much. Tania."
"Just to let you know that Alice Primrose was born as planned, at home, in the birth pool, (pretty much like her sister) on Tuesday 28 February!!!!! She is just perfect and so, so welcome.
I will come into class sometime and tell my story, which is just such a happy tale of things being calm and controlled and birthing as we all dream/hope it can be. I feel so amazingly blessed to have birthed so well twice and to now have two delightful daughters to pass on a legacy of positive pregnancy and birthing to.
Thanks for all your support and guidance and also brilliant yoga which I know contributed hugely to both of my pregnancy and births."
"This is how Kirin Rose made her entrance to the world: to encourage you all to keep up with your pregnancy yoga - you're doing the single best preparation for a great labour and birth!!
My contractions started at home around 11pm on Tuesday, and I spent the night trying to sleep (as I thought I was in for the long haul) without much success, did some yoga, but at 6am was so uncomfortable we phoned Triage and was advised to take two paracetamol and a bath, which I did.. Went into hospital at 8am, was examined and found to be nearly 9cm dilated - we couldn't believe it.. Kirin was born in the pool at 11.33am, and I'd done it all with no pain relief, ample use of ujjayi breathing and superb support from my partner who kept my breathing on track throughout!! Minimal tearing and some grazing, no stitches needed..Absolutely incredible experience and one I credit to Alison's classes and Sophie's birth preparation class!
I hope to bring her in one of the coming Thursdays and in the meanwhile a massive thank you to you both Alison and Sophie! And for all you yoga ladies, keep it up - it'll make all the difference on the day!! I would never have thought I'd be able to give birth with two paracetamol..
Thanks again, I cannot fully express in words how important your birth preparation class was for us - we both felt it was enormously helpful (and much more so than the antenatal classes we attended).
Susie."
"Dear Sophie - India Rose was born at home the early hours of Monday morning (her due date!). The yoga breathing worked a treat and the tips David learnt in the prebirth class helped him help me through. No pain relief other than 2 paracetamol and the Tens machine. Jo."
"Sophie - thank you so much for everything that you taught me - I learnt more from your weekly classes than I did from the numerous books and magazines I read. When we went to our antenatal classes at the hospital I was able to ask the midwife questions I wouldn't have even thought were an option - for example birthing the placenta without the use of the injection. I think you offer a truly amazing service to women who may start the classes feeling anxious, nervous or scared and finish them feeling knowledgeable, safe and confident in their own ability to birth their baby in the way that they wish. Your support and understanding makes everyone feel individual yet still part of a group. I really couldn't recommend your classes enough. Lisa."
We recommend that you start yoga when you are 14 weeks pregnant, but book in before that if you can, as there is often a waiting list. You can of course join at any time during your pregnancy, even late in your third trimester.
The classes are at Jacob's Well, Trinity Lane, off Micklegate - a beautiful, cosy medieval hall. There is free parking available, but not directly at the building - please email for details.
Mats, blocks, blankets and yoga birthing balls are provided, but bring along two small cushions for extra comfort.
The YogaCo Yoga for Pregnancy classes will
help ease common discomforts of pregnancy
strengthen and stretch you in preparation for birth
teach you essential breathing techniques
help position your baby well in the womb
deepen your loving connection with your baby
increase your self-confidence
provide you with information about your birth choices
introduce you to other mothers-to-be in a very supportive environment
have regular visits from community and independent midwives
loan you birthing pools, birthing videos and birthing kits
Sophie Carr is a mother with 20 years experience in yoga. She specialises in yoga for pregnancy and has helped hundreds of women in York and the North of England to ease and enjoy their pregnancies, as well as to prepare for the birth of their child. She has an inspiring approach to the joys of pregnancy, combined with practical experience spanning years of how yoga may help with the physical challenges of carrying a baby for nine months.
Sophie works in close contact with local NHS community midwives and doctors, the National Childbirth Trust and with Yorkshire Storks, the independent midwifery practice for the area. Sophie has extensive training in perinatal yoga: she has completed the British Wheel of Yoga Pregnancy Module, has studied Optimal Foetal Positioning with Jean Sutton, Active Birth with Dominique Sakoilsky and Post-Natal Yoga with Uma Dinsmore-Tuli.
Sophie's weekly pregnancy classes are great fun, with a strong sense of mutual support generated by her years of working with the needs of mums-to-be. She has a wonderful way of weaving her extensive knowledge of pregnancy and birth into the yoga classes. Many women make lasting friendships through the shared experience of the classes, and come back for more yoga through their second, third and fourth pregnancies.
Yoga can help with some of the common discomforts of pregnancy: back pain, cramps, nausea, heatburn, rib pain, insomnia, carpal tunnel syndrome. It teaches postural awareness and helps in realigning your changing body. You will develop strength in the legs and softness and openness in the pelvis, and learn to support your vulnerable back. Gentle stretches opening chest and shoulders provide more space to breathe, more room for the growing baby, and counteract "feeding hunch" before it begins. Pelvic floor exercises are the best preparation for quick post-natal recovery.
By balancing hormonal upsets yoga can help support emotional upheaval, while yogic relaxation is essential for rejuvenating a tired pregnant body, and for helping you deal with uncomfortable nights.
In class you will have time for being with your baby, and to connect with your mothering instincts before birth. You will develop your inner resources and prepare for the big day.
Yoga supports you as a mother, just as you look after your baby. It is deeply steadying and grounding. It can relieve anxiety both by a sense of well-being gained through the practice, and by developing a community spirit by sharing experiences with other mothers-to-be.
We spend time each week discussing pregnancy pros and cons, and birth issues such as where to give birth, active birth, what helps and what hinders a normal birth. This is an essential part of the class, and mums-to-be find it good for widening their knowledge and choices around birth, as well as for making contacts with fellow pregnant ladies.
Members of the class often return, to show off their beautiful babies and tell their birth story, whether or not it went according to plan.
Yoga is an essential tool for childbirth. The inner focus you develop with yoga helps access the "labour zone", the instinctual state which allows you to birth normally. The breathing techniques give you confidence and calmness to deal with the pain of contractions. Mothers frequently say how useful this breathwork was for them during labour.
If your birth becomes complicated, using your breathing will help you remain calm, able to make decisions without panicking. Relaxation techniques enable you to conserve energy between contractions. Your strength work will give you stamina, and your softening work will ease the birth.
Yoga is helpful for the days immediately following the birth of your baby, because it develops your intuition, encouraging you to trust yourself as a mother. Trusting yourself means that bonding with your baby and breastfeeding are instinctive. Relaxation helps you to cope with sleepless nights and promotes let-down of breast milk. Your pelvic floor will recover quickly. Good posture helps combat "feeding hunch" and aching backs.
We have extensive information about local services such as complementary therapy, the cheapest TENS machines, nappy suppliers and ideas for supportive post-natal groups.
We have regular visits from community and independent midwives.
Sophie also loans out inflatable water pools for home birth, waterbirth videos and homeopathic birthing kits.
Here are a few more comments made by the many hundreds of mothers who have attended the yogaCo pregnancy classes:
"The yoga kept me fit, informed me of choices and gave me confidence in my body's ability to carry and give birth to my daughter. Not to mention adding to the bonding experience, meeting others and having fun! I will always have fond memories of my Thursdays with you and all the other bumps!" Becca H.
"Yoga rescued my back during pregnancy. It gave me the confidence and techniques to breathe, move and make noise assisting a wonderfully positive birth experience resulting in a beautiful baby daughter!" Rachel G, York
"I'd never done any yoga before, so I didn't know what to expect, but I can honestly say it was the best preparation I could have done for the birth of my baby." Annie S, York
"Inspiring. The best pregnancy yoga class in the area, by a long way." Liz P, York
"On my first night I was immediately struck by the openness of the class, it was an atmosphere where people could share and be honest about their feelings. I got to know other pregnant ladies. The yoga itself was relaxing yet invigorating. I always felt revitalised by the end of the evening." Rachel B, York
"I shall really miss my pregnancy classes now my daughter is born. Thursday evenings just won't be the same. The breathing was fantastic during the birth, I couldn't have managed without it." Lorna W, York
"The yoga classes were really valuable. I took many techniques from the classes to my labour and am sure that they contributed to our incredibly positive experience. I have also gained a group of friends who I continue to be in touch with it will be lovely seeing the babies grow up together. Thank you for all of this." Lottie T.
"The postures we practiced proved very helpful during both pregnancy and labour." Ella P, York
"Pregnancy yoga was wonderful preparation for birth both mentally and physically. We practiced very useful postures and breathing techniques." Leone S, York
"Time to relax, connect with my baby and rejuvenate my body. I'd be lost without it." Abi T, York
"A great class, the perfect way to get exercise and build strength during pregnancy, while sharing experience with a supportive group." Rachel H
"Thank you so much, I have really enjoyed the yoga classes and will really miss you." Fiona W
"I have found the yoga really helpful and have enjoyed your dynamic and supportive style. The classes are really great!" Bronwen G